Crankcase Ventilation for 2021 Ram ProMaster 1500
No.
Part # / Description
/ Price
Hose Clamp
M21.50. Engine side. Heater Side. Hose To Heater.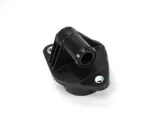 6 Lobe Screw And Washer
6 Lobe Screw And Washer, Mounting
M5x0.8x15.00. PVC Valve to Right Hand Valve Cover. M5x0.8x20. Footman Loop Attaching. Actuator. PCV Valve To Cylinder Head. Actuater to valve cover. Frame Bracket. Footman Loop to Windshield.