No.
Part # / Description
/ Price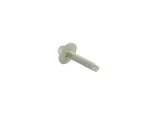 Hex Flange Head Bolt
M6x1.00x35.00. Clean Air Hose To Fan Shroud. Airbox To Hydroform. Intake Manifold Support Bracket.
Air Temperature Sensor
Air Cleaner To Throttle Body. Located in air cleaner resonartor. Air Temperature Intake Twist Lock.
Hex Flange Head Screw
M5x2.24x30.00. Air Cleaner Upper to Lower. Air Box Lid to Lower. Air cleaner to dsd. Airbox Upper to Lower.
Air Cleaner Bracket Grommet
Air Cleaner to Inner Fender. Attaches the air flow sensor to the air cleaner. Grommet that holds the sensor. Air Cleaner Mounting. Up to 8/8/03. Rear.