Hydraulic Control Unit, Brake Tubes and Hoses for 2018 Ram 1500
No.
Part # / Description
/ Price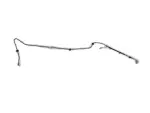 Brake Hose To Caliper Gasket
As Required. Disc Brake Line/Hose. To Caliper-For Item 2,9. Hose and Tube Assembly to Caliper. Brake hose to caliper. 4-Front, 4-Rear.
Tube Clip
Brake Line, Single. For Tube 52010316AB. 2 Way. Brake Tube to Crossmember. Left Rear Brake Tube and Hose Assembly to Frame. As Required. Right Rear Brake Tube to Bracket. Fold Over Clip. Single tube, push in. New Foldover design.