No.
Part # / Description
/ Price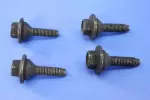 Hex Flange Head Screw, Tensioner To Bracket
Hex Flange Head Bolt
M8x1.25x30.00. Oil Filter Adapter To Cylinder Block. Bracket to Block. Tensioner to Accessory Drive Bracket. Timing Chain Cover To Engine Block. Tensioner attaching. Oil Filter Adapter To Oi Pan. Bracket attaching. A/c discharge jumper to condenser. [m8x1.25x30.0].