Exterior Accessories/Wheels accessories for 2015 Ram 1500
Select Exterior Accessories/Wheels accessory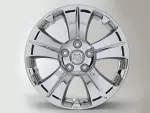 20x9 Chrome Wheel
Description:
20 X 9" Mopar® Unique Chrome, 5-Spoke Cast Aluminum Wheel with raised pocket ribs and Ram`s Head logo Wheels are available in either...
Notes:
-Check government restrictions on installation and use.
Center Caps
Description:
Wheel Center Caps, set of four featuring the Mopar® logo. Fits wheels with 63 mm center cap opening. Add some flare to your vehicle by...
Fits:
Chrysler:

200,
300,
Pacifica,
Sebring,
Town & Country,
Voyager

Dodge:

Avenger,
Challenger,
Charger,
Dart,
Durango,
Grand Caravan,
Journey,
Ram 1500

Jeep:

Cherokee,
Compass,
Grand Cherokee,
Grand Cherokee L,
Grand Cherokee WK,
Grand Wagoneer,
Patriot,
Renegade,
Wagoneer,
Wrangler,
Wrangler JK

Ram:
Functional Bead Lock Ring Kit
Replaces: P5160052
Description:
Functional Bead Lock Ring Kit allows true bead lock capabilities. This ring is required when running low tire pressures with bead lock...
Notes:
Price shown per wheel.
Fits:
Jeep:

Gladiator,
Wrangler,
Wrangler JK

Ram: