Vacuum Canister/Leak Detection Pump for 2013 Jeep Patriot
No.
Part # / Description
/ Price
Hex Head Bolt And Washer, Mounting
Camshaft Thurst Plate To Cylinder Head. Front Inner Cover To Cylinder Head. Camshaft Thrust Plate. M8x1.25x25.00. [naa,nae,nas]. Inner Cover To Right Cylinder Head. Timing Belt Cover Inner to Cylinder Head. Outer to Inner. Bracket To Canister.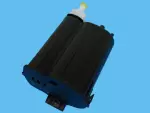 Vapor Canister Seal
Included with Item 5. Included with Item 1. Included in Item 1. Also Included In Item 7. Seal. [naa,nas,nae]. Seal. [-xkn].