Crankshaft, Piston, Drive Plate, Flywheel, and Damper for 2008 Dodge Durango
No.
Part # / Description
/ Price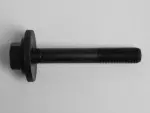 Hex Flange Head Bolt, Mounting
Hex Flange Head Bolt
Damper Mounting. [m14x1.50x112.00]. Damper/Pulley to Crankshaft. Bedplate to Block. Dampner/Pulley To Crankshaft.
Screw, Mounting
M6x1x25. Tone Wheel To Crankshaft. Serviced With Crankshaft Assembly. Target Ring Mounting. Tone Ring. Target Ring To Crankshaft.
Woodruff Key
For Crankshaft Sprocket. For Chrankshaft Sprocket. M5x62.00.
1 This price excludes a refundable manufacturer's core charge. Add the part to your cart to see the core charge.
No.
Part # / Description
/ Price
Piston Ring Kit
One Package Contains Four Rings To Supply One Piston. Standard Size. One [1] Package Services One [1] Piston.