No.
Part # / Description
/ Price
Block To Clutch Housing Dowel
Cylinder Block to Clutch Housing. Block To Head. [.25x.75]. Or Transmission Housing. Cylinder Block to Transmission. 1/2 x 3/4.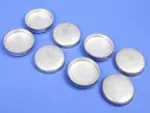 Core Plug, Cylinder Block
Core Plug
Id=m32.26 od=35.00 thick=1.37. Axle Shaft Flange Plug. For Engines Without Cylinder Block Heater Only. 1.39 diameter. [id=m32.26 od=35.00 thk=1.37]. Front Crankcase Cavity Block Off. Water Jacket. For Vehicles Without Cylinder Block Heater Only.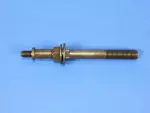 Double Ended Stud, Mounting
Stud
Bedplate To Cylinder Block. M11x1.50x8x1.25x142.75. Crankshaft Bearing. [m11x1.50xm8x1.25x118.50]. [m11x1.50xm8x1.25x142.75].
Hex Flange Head Bolt, Mounting
Screw And Washer
M11x1.50x90.00. Main Bearing Cap To Cylinder Block. Crankshaft Bearing. M11x1.50x90.0. BedPlate to Cylinder Block.
Core Plug
1.50 Diameter. Cylinder Block Core Hole. Engine Block Core Hole. Intake Manifold Casting.
Dowel, Mounting
Dowel
Engine Block To Front Cover. Cylinder Block to Bedplate.
1 This price excludes a refundable manufacturer's core charge. Add the part to your cart to see the core charge.