Related Parts
Part # / Description
/ Price
Tie Strap
Trailer Tow wiring. Quantity of 3. Engine wiring. Quantity of 2. Quantity of 5. 14.5 Inch. Fuel tank wiring to lt brake cable.
Clip, Liquid Line Attaching
Wiring Clip
For Electrical Connector Repair Information Visit The Electrical Connector Website. Liquid Line To Hydroform. Liquid Line to Wheelhouse. Throttle Body. Shift Cable To Frame. Shift Cable To Starter. Canister Wiring. Liquid line to wheel house.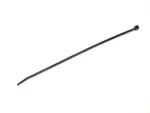 Cable Tie
Tie Strap
Transmission Harness To Starter. Brake Vacuum Line to Harness.